Over the past few years, the way we work has drastically changed. Remote and hybrid work models have become the norm for many industries rather than the exception. And since the way organizations operate has changed, so must the approach to providing employee benefits.
Employee benefits are the non-wage perks your team receives in addition to their compensation. They're ideal for motivating employees, making your organization stand out, and, most importantly, attracting and retaining top talent.
A 2021 LinkedIn survey found that 60% of individuals said compensation and benefits were the top priorities when choosing a new job. How can you craft the best employee benefits plan to help your organization remain competitive? Start by offering the employee benefits that people want!
Best Employee Benefits to Offer
The best employee benefit programs take a holistic approach, providing perks that offer both immediate and long-term benefits for employees. Here are a handful of the best employee benefits that are proven to attract and retain talent across different industries.
1. Flexible Work Options
Having the option to work from home or remotely has always been important to employees, but has boosted in popularity in the past few years. According to the Society for Human Resource Management (SHRM), flexible work options are the most sought-after work benefit today.
In fact, SHRM found that 42% of organizations that saw higher or much higher turnover in early 2021 have implemented new or additional remote-work or flexibility options to reduce turnover. To retain talent, offer unique work options like flexible hours (not the traditional 9-5), remote or hybrid options, or compressed workweeks.
2. Reimbursement for Expenses
With many employees working from home, it's important to offer a benefits package that includes reimbursements for remote work expenses. When your team works remotely you may be saving money on office and materials costs, but your employees may be spending more on supplies, internet, etc… .
Offering a work-from-home stipend or reimbursing your team for setting up a home office or internet costs can be a great way to attract new talent – especially for employees who are new to working remotely.
3. Financial Wellness
Financial wellness and security are top of mind for the majority of employees. When employees are stressed by finances, it can take a toll on their work. A 2021 survey found that 65% of employees were stressed about their finances due to the pandemic, costing employers across the country a total of $4.7 billion per week in lost productivity.
Offering financial literacy programs and other benefits and perks around financial wellness can help your team in more ways than one. For instance, consider offering early access to earned wages, also commonly referred to as Early Wage Access (EWA). As the name suggests, this innovative method to deliver wages allows employees to access wages for hours worked before the traditional payroll period.
EWA is especially beneficial for hourly workers in the restaurant industry who may want to access their wages earned before bi-weekly or monthly payroll. AllianceHCM offers various integrations from Tapcheck to Zayzoon – and more – that make offering EWA a breeze.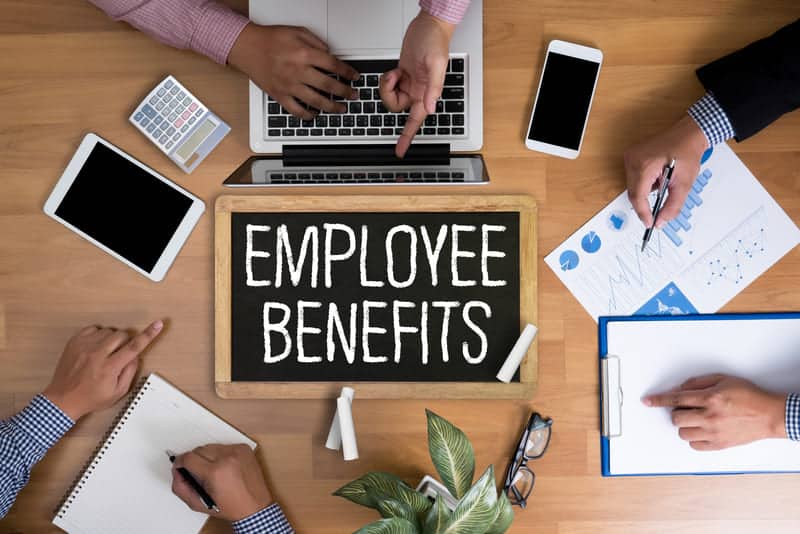 4. Mental Health
Similarly, more emphasis has been on mental wellness. While many employee health plans include things like gym memberships and health insurance to focus on physical well-being, it's also important to include mental health perks.
The SHRM 2022 Employee Benefits Report found that 1 in 5 employers offer mental health days above and beyond regular sick or family and medical leave. Large corporations and small businesses alike should also consider offering benefits and programs that connect employees with mental health care providers.
5. Retirement
Retirement planning is a part of any good benefits package. It's on par with insurance benefits like life insurance and worker's compensation, and it is a great way to not only attract new employees but also retain top talent in the long term.
In 2022, SHRM found that 82% of employees selected retirement and savings as an important benefit. That's up an astounding 27% from 2020/21, which shows it's an incredibly important benefit to provide.
6. Career Development
Finally, we can't overlook the importance of offering career development opportunities as part of your employee benefits plan. Creating opportunities for professional growth makes your employees feel valued and engaged with their careers at your organization. It's one of the best ways to ensure your team can envision themselves at your organization in the future.
Optimize Your Employee Benefits Plan
Of course, these employee benefits are only great at attracting and retaining top talent if they're accessible to your team. AllianceHCM helps organizations plan and administer competitive benefits packages, as well as seamlessly integrate with HR and Payroll to reduce costs and minimize risk, all within our complete Benefits Management solution.
The AllianceHCM Benefits Management Suite delivers a complete lifecycle to your benefits programs while giving employees unlimited access to the benefits they need to stay engaged with your company.
Book a demo today to learn more about how AllianceHCM's Benefits Administration solution can benefit your organization.